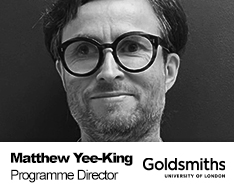 Matthew Yee-King /
Goldsmiths
Matthew Yee-King (DPhil, MSc, BSc) is an academic in the department of computing, Goldsmiths, University of London.
In 2013 he delivered the first English language MOOC on the coursera platform, attracting an enrolment of 97,000. As the project manager for the €3m PRAISE research project, he managed the development and trialling of innovative education technology, including media annotation systems.
He is the CTO of Museifi, a spin out company that is innovating PRAISE technology into the marketplace. He has also carried out research into audio analysis and creative applications of machine learning, including a series of commissioned musical AI systems that have performed alongside human musicians on BBC national radio and at venues such as the Wellcome Collection.
Academic qualifications
BSc Zoology and Genetics, Leeds University, 1996
MSc Evolutionary and Adaptive Systems, Sussex University, 2000
DPhil Computer Science and Artificial Intelligence, Sussex University, 2010
Teaching
Matthew is responsible for development of online course provision within the Computing department, having developed and delivered MOOCs that have been taken by hundreds of thousands of students. He has previously taught a range of courses including programming, audiovisual computing and web development.