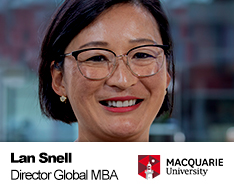 Lan Snell /
Macquarie University
Associate Professor Lan Snell is the Program Director for the Global MBA at the Faculty of Business and Economics, Macquarie University. She is the academic lead for curriculum development, quality control, and the delivery of digital, integrative experiences for the Global MBA. Prior to her appointment at Macquarie University, Lan was the Director of Education Services and MBA Director for UTS Business School where she led the implementation of strategic educational projects in the areas of blended learning, curatorship of resources and original production, re-accreditation and development and quality assurance of the MBA.
Lan is industry experience spans over 15 years where she is considered a leader in strategic marketing and change management within the professional services sector. Lan's academic and teaching experience comes from institutions including UTS, Charles Sturt University, and the University of Sydney. She is a Board member for the Centre for Volunteering and a Visiting Professor for RMIT Vietnam. Lan is committed to research that delivers impact and benefit for individuals, organisations, and society. This is evidenced from her early interest in services marketing including service quality and satisfaction, the economic and social outcomes of service consumption, and co-creation in high involvement services.
Understanding the transformative aspects of service continues to be of interest, as reflected in her recent work on how owner managers achieve growth-quality of work life ambidexterity as well as through her research into entrepreneurship. Given advances in technology have fundamentally changed the way service is delivered and experienced, Lan is curious about the role of technology-enabled services in improving individual and societal well-being. Lan is also interested in how firms seek service-led growth as well as understanding organisation and employee issues relevant to successful service. Thus issues related to organisational adaptation, the transfer of mind-sets necessary in achieving transformation and identifying the leadership competencies critical for managing services are of interest. Lan has publications in journals including European Journal of Marketing, Journal of Services Theory and Practice, Health Marketing Services, and European Heart Journal. Lan holds a PhD in Services Marketing (University of Sydney), Master of Education (Macquarie University), Graduate Certificate in Research (Macquarie University), and Bachelor of Business (UTS).