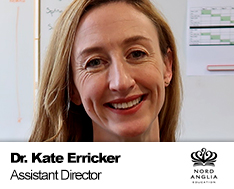 Kate Erricker /
Nord Anglia Education
Dr. Kate-Erricker, Assistant-Director, Curriculum, Nord Anglia Education.
Dr.Erricker is the Assistant Director, Curriculum for the Nord Anglia Education team and leads The Metacognition Project, a 2 year research project working with 27 schools globally on how education technology can develop, measure and substantiate metacognitive growth and the development of C21st skills in students.
Based at the Nord Anglia school in Hong Kong, Kate works closely with teachers and leaders across the world on teacher professional learning, implementation of change particularly when using new technologies, and the development of classroom cultures of learning that deepen thinking.
Before joining Nord Anglia, Kate was a school improvement advisor for Hampshire Local Authority. In this role, she worked with teachers and leadership teams to improve outcomes in primary and secondary schools.
Kate originally trained as an English teacher in the U.K. and has 20+ years' experience in education. She has a Masters and PhD in Education, specialising in teacher professional development.