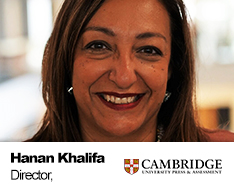 Hanan Khalifa /
Cambridge University Press
Hanan Khalifa, Director, Education Reform & Impact, Cambridge University Press & Assessment.
Dr Hanan Khalifa leads a cross-divisional team of experts in the field of language learning, teaching and assessment on providing evidence-based decision making and developing language education, working with ministries of education worldwide and developing strategic partnerships at a global level.
Previously, Hanan has held ministerial roles as advisor to Ministers of Education and University Presidents, and worked for international development agencies and world renowned educational firms (BC, AMIDEAST, AIR, FHI 360). Hanan's expertise lies in language testing, educational assessment, monitoring and evaluation, standard setting, research (methodology, instrument design, data analysis), and institutional capacity building. Hanan holds a PhD in Language Testing from the University of Reading, UK.
Her work experience includes education reform strategy, bespoke solutions, test design, curriculum and syllabus design, materials development, baseline and impact studies, assessment audits, and managing large surveys (TIMMS and PISA). Hanan is an expert member on Council of Europe CEFR panels and the Eaquals inspection committee. She has presented worldwide, with a track record of over 60 conference presentations and 30 publications including Examining Reading (co-authored with Professor Cyril J Weir, used as course/key reference material by ALTE and master's programmes in UK universities). She was the recipient of the 1989 Hornby Award for ELT and a joint winner with Anne Burns and Katherine Brandon of the 2013 IEAA Excellence Award for Innovation in International Education. Hanan speaks Arabic and French. In 2018, she was recognised as one of the top 36,000 Egyptian Scientists living and working overseas.