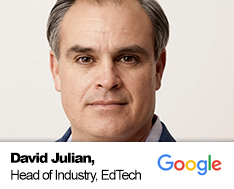 David Julian is Head of Industry, EdTech – GOOGLE.
Accomplished sales professional with extensive experience selling into large advertisers and agencies.
Consistent top performer with a strong understanding of emerging digital technologies including CRM, mobile, native, social, video, search, programmatic and cross-device measurement.
Strong network of contacts and relationships with leading marketers and agencies.
Comfortable working within sales organizations with diverse new product offerings and significant revenue growth expectations.